Brass Dart Types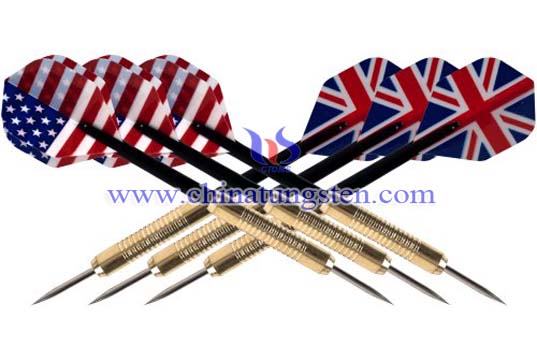 Brass is a fairly dense (heavy) metal, is relatively inexpensive, and is easy to machine. Unfortunately, it is so soft that the machined "grip" may quickly dull and wear down, changing the "feel" of the dart. Also, since brass dart is commonly mass-produced, the quality and consistency of the machining may vary considerably. Brass darts are often used as "house darts" due to low cost.
Tungsten Darts
There are two common types of tungsten darts,80% Tungsten and 90% Tungsten.
Both types are alloyed with Nickel and are referred to as "Nickel/Tungsten" Darts. They are denser than Brass or Nickel/Silver Darts. This means smaller diameter barrels, better "feel", and tighter possible groups on the dart-board. Tungsten is also very durable, and the machined grip will not wear down as rapidly as on Brass or Nickel/Silver Darts.
Nickel/Silver Darts
Like Brass, this is a fairly dense (heavy) metal, is relatively inexpensive, and is easy to machine. However, Nickel/Silver is harder and therefore more durable, which prevents the machined grip from wearing away as rapidly. Hence, nickel/silver is similar to brass darts, and popular among budget-minded beginners. (Note: There is no actual Silver content; this Nickel and Tin alloy is often used for the moving parts of silver jewellery and for trophies.)